28-30 The Mall
Ballarat Street
Queenstown 9300

From The Pampas to The Remarkables…..
Welcome to a Brazilian BBQ Experience! Since opening in 2019, Fogo's charcoals have been BBQ'ing juicy, perfectly-seasoned succulent cuts for the meat-lovers of NZ. The All-You-Can-Eat Experience delivers and delights in the heart of Queenstown, for anyone from the solo traveller to families, from date-night couples to large groups.
Sit down and relax as passadores present and carve 13 endless meats at your table, accompanied by bottomless traditional sides like garlicky black beans, Brazilian rice, tomato salsa, chimmichurri and many more. The experience is topped off with a BBQ cinnamon pineapple, the ultimate palate cleanser.
Create your own delicious Brazilian cocktails with a fun interactive menu – choose which spirit to pair with a tropical flavour. Will you keep it traditional with a Caipirinha, or branch out to a Mango & Chilli Caipiquila (tequila)? Wine fans out there enjoy our NZ and South American centric wine list, curated to perfectly pair with BBQ meats.
Not hungry enough for All-You-Can-Eat? No worries, you can sample a selection of our BBQ with à la carte platters, cooked to order. The vegetarians of your group are also looked after with our Veggie Mini Chur Platter.
The question is, have you left enough room for churros?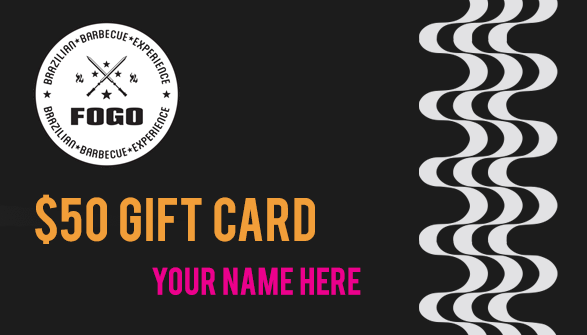 Give THE GIFT OF
BARBEQUE!
Do you know someone who deserves an amazing Brazilian BBQ? Maybe it's you?
Reward them with the gift of food with a Gift Card for FOGO.
Purchase any amount over $25.
Purchase online and redeem in the restaurant. Or give us a call on 03 409 2254. 
LUNCHES & A FULL BAR
with some special Brazilian extras
we love to serve our customers
We will come back again! Was too good not to! The all you can eat is very fairly priced and well organized. Staff are lovely and the bald guy with the mustache is a legend. Best customer service in Queenstown over 2 trips!
"The Brazilian barbecue experience is a must try whenever you're in Queenstown. It comes with all the side dishes. I think I ate 3 servings of Brazilian rice. 🍚 😂"
"Amazing meat cuts, very delicious range of meats cooked perfectly. I even got some nice medium rare beef! Excellent service and friendly staff. We had a great evening. The side dishes were of good quality and weren't designed to simply 'fill you up' like in other bread focused buffets we have in Auckland."
Join us for lunch, dinner, or grab your takeaways.
For reservations or to order for takeaway
please call +64 (0)3 409 2254