28-30 The Mall
Ballarat Street
Queenstown 9300

From The Pampas to The Remarkables…..
The traditional Churrasco (Barbecue) method was forged by the Gaúcho (cowboy) of the South Brazilian plains.
After a long day spent on horseback the Gaúcho would set up camp. He would then dig a hole in which to build his fire (Fogo) protected from The Pampas winds. Once the Fogo was roaring, the Gaúcho would slow roast his bounty caught that day.
As the sun set over the Rio Grande do Sul, the Gaúcho, content with a belly full of churrasco, would slumber in the quiet of the plains.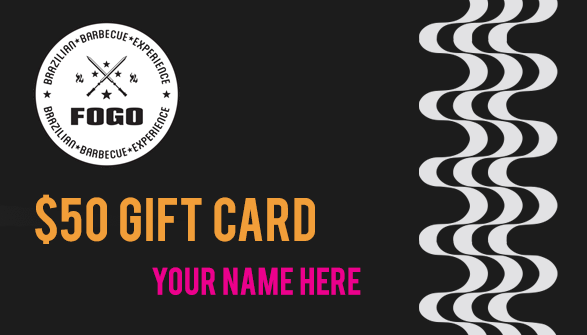 Give THE GIFT OF
BARBEQUE!
Do you know someone who deserves an amazing Brazilian BBQ? Maybe it's you?
Reward them with the gift of food with a Gift Card for FOGO.
Purchase any amount over $25.
Purchase online and redeem in the restaurant. Or give us a call on 03 409 2254. 
FULL BAR
with some special Brazilian extras
we love to serve our customers
We will come back again! Was too good not to! The all you can eat is very fairly priced and well organized. Staff are lovely and the bald guy with the mustache is a legend. Best customer service in Queenstown over 2 trips!
"The Brazilian barbecue experience is a must try whenever you're in Queenstown. It comes with all the side dishes. I think I ate 3 servings of Brazilian rice. 🍚 😂"
"Amazing meat cuts, very delicious range of meats cooked perfectly. I even got some nice medium rare beef! Excellent service and friendly staff. We had a great evening. The side dishes were of good quality and weren't designed to simply 'fill you up' like in other bread focused buffets we have in Auckland."
Join us for lunch or dinner.
Takeaways available.
For reservations or to order for takeaway
please call +64 (0)3 409 2254