Picanha: The Prime Cut Of Brazil
Picanha comes from the rump cap muscle of the cow, which is the back-side of the animal, sitting on a fat cap. It's Brazil's most popular cut of beef. And honestly, you can't have a barbecue without it.
What: Picanha
Place: Fogo Brazilian BBQ
Where: 28-30 The Mall Ballarat Street Queenstown 9300
Its flavour and texture are similar to sirloin. And if you are anything close to a meat lover, you will instantly fall in love with Picanha. It has a thin strip of fat on it to enhance the flavour and tenderness, which makes it even juicier.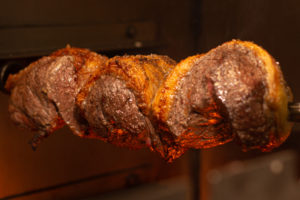 You must be salivating just by reading this, aren't you? Well, at Fogo Brazilian BBQ you will find that the grill is fired up with charcoal, making any meat taste better. That's according to old Brazilian knowledge past from father to child, of course.
This month of August we are having special prices for our All-You-Can-Eat BBQ. Therefore, there's not reason for you not to come and try our Picanha. This is how it works:
If you book a table any day between 5pm to 6pm you pay $49.95 per person on the All-You-Can-Eat BBQ.
Regular price is $62.95
Call us on 03-409 2254